Return During Critical Events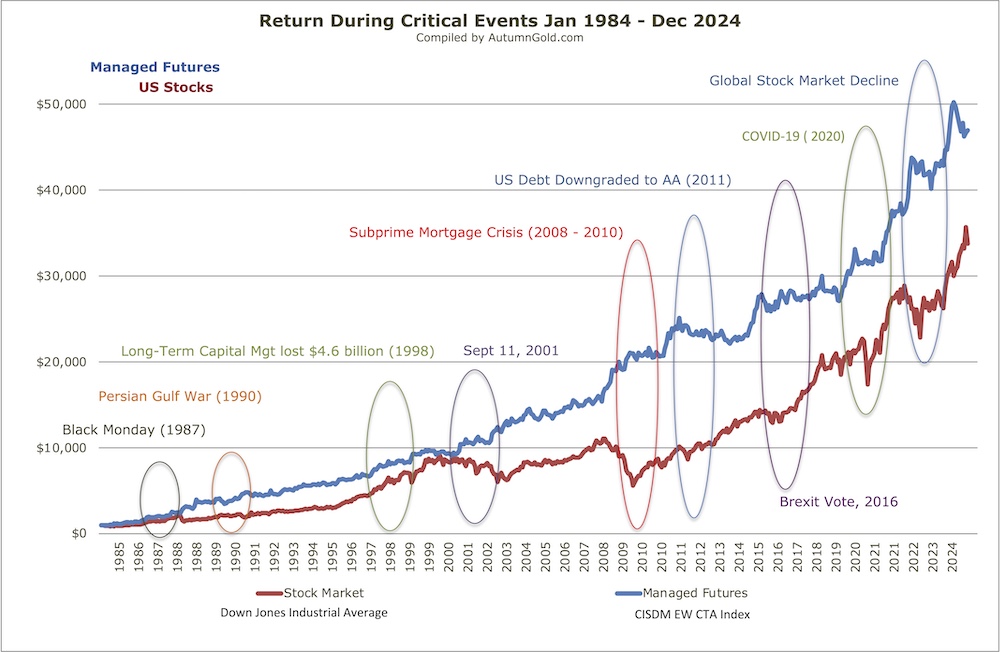 The addition of managed futures to a client's portfolio does not mean that a portfolio will be profitable or that it will not experience substantial losses and that the studies conducted in the past may not be indicative of current time periods or of the performance of any individual CTA.
The Dow Jones Industrial Average is a price-weighted average of 30 blue-chip stocks that are generally the leaders in their industry. It has been a widely followed indicator of the stock market since October 1, 1928.
The CISDM Equal Weighted CTA Index is an equal weighted index of CTAs maintained by The Center for International Securities and Derivatives Markets at the University of Massachusetts Amherst. It reflects the average performance of Commodity Trading Advisors reporting to the CISDM Hedge Fund/CTA Database. Each CTA must have at least $500,000 under management and at least a 12-month track record.
---
For More Information
Please click on countdown timer to register
for our next webinar
Trading futures and options involves substantial risk of loss and is not suitable for all investors. There are no guarantees of profit no matter who is managing your money. An investor must read and understand the Commodity Trading Advisors current disclosure document before investing. Past performance is not necessarily indicative of future results.

Michael A. DeRose - President / CEO